Marylee Hardenbergh, CMA, BC-DMT, LICSW
Artistic Director of Global Site Performance, Board-Certified Dance/Movement Therapist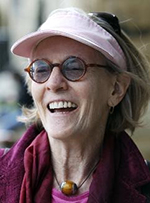 Marylee Hardenbergh was asked to take on the original role of Artistic/Executive Director of Global Water Dances in 2008, since she had created a multi-site dance that occurred at seven simultaneous sites along the Mississippi River, which was used as the template for GWD. She has choreographed numerous site-specific dances for places such as the Mediterranean Sea, the Volga Ricer, Brooklyn Borough Hall, a wastewater treatment plant, skyscrapers, and an Aerial Lift Bridge on Lake Superior. Hardenbergh studied with Irmgard Bartenieff. As a Dance Therapist and member of the Sacred Dance Guild, she teaches and directs Movement Choirs internationally. She directs Global Site Performance, and recently has been creating dance films with grants from arts boards. More of her work at www.GlobalSitePerformance.org
---
Vannia Ibarguen, MFA
Choreographer and Artistic Director of Vannia Ibarguen Danza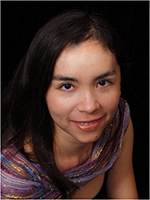 MFA Graduate in Dance of the University of Maryland. She is a performer, choreographer and teacher. Her focus is the interaction between dance and technology, as well as the relationship between classical, contemporary and folk dance styles. A ballet dancer from the age of ten, she went on to complete her undergraduate degree in Systems Engineering and graduated Magna Cum Laude. As a dancer, she has performed in Peru, Colombia, Argentina, Mexico, Cuba, Hong Kong, and the US. She was a Soloist at the Ballet Municipal de Lima, and finalist at the XIII International Ballet Competition. In 2005, Vannia received the Best Dancer and Choreography Award in Argentina. In Washington DC, she has performed with Nejla Yatkin's NY2Dance, Maryland Dance Ensemble and Teatro de Danza Contemporanea. Vanniahas also been an e-Business Consultant, Communication Manager at the National Dance Council-Peru, and a journalist for DanzaHoy e-Magazine. Among the artists she worked with at the University of Maryland are John Jasperse, Tere O'Connor, Donna Uchizono and Victoria Marks. Vannia was awarded the Anne Zirulnik Student Scholarship for exceptional promise in Dance Education in the NDEO Conference in New York in June 2009. She is Choreographer and Artistic Director of Vannia Ibarguen Danza (www.vanniaibarguen.com)
---
Karen Bradley, MA, CMA
Associate Professor of Dance Emerita in Dance at the University of Maryland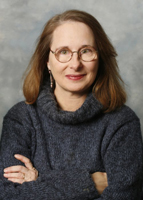 Karen Kohn Bradley is Associate Professor of Dance Emerita in Dance at the University of Maryland. She is a Certified Movement Analyst in Laban Movement Analysis and is the President of the Laban/Bartenieff Institute of Movement Studies in New York City. As a movement analyst, she has worked in dance therapy, with learning disabled children, in arts education research and policy, and observed and coached politicians and business leaders. She authored the book Rudolf Laban as a part of Routledge's series on 20th Century performance practitioner, recently reissued as a 2nd edition. In addition, she has conducted research and published book chapters, articles, and presented on arts education and neuroscience. Bradley is retired and lives in Musquodoboit Harbour, Nova Scotia.
---
Gretchen Dunn, CMA
MAOTR: Master of Arts in Occupational Therapy Registered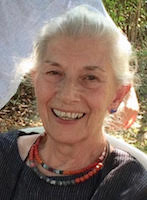 Gretchen Dunn is a retired Occupational Therapist, who, when she retired, began to dance. Her great pleasure is Contact Improvisation. In 2006 she became a Certified Movement Analyst from the Laban Institute of Movement Studies and teaches Laban/Bartenieff based movement classes to older adults and private students. Other passions are beads and bead history, and baking. When she moved to Maryland from Manhattan in 1987, she organized her new community recycling program—fulfilling the dream of her 3-year old self who wanted to be a garbage collector.
---
Martha Eddy, CMA, Ed. D., RSMT
Director of Center for Kinesthetic Education
http://www.movingoncenter.org/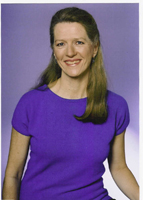 Dr. Martha Eddy, CMA, RSMT is a movement maverick applying her expertise as a Laban/Bartenieff Movement Analyst, dance educator, somatic movement therapist, conflict resolution specialist, herbalist and exercise physiologist broadly (schools, hospitals, churches, and homes). Her interest in a peaceful and sustainable world began with her childhood in East Harlem. Important elements are building community and having a tiny garden next to a rock. Her landmark course, "Conflict Resolution through Movement and Dance" arose from her dissertation research. From it she was inspired to develop "EcoMoves for Kids" a curriculum that emphasizes caring in human relationships within school and extends outward to the local nature – a community garden, park or tree. Her own 'herb dances' evoke the energies of different plants. As a major proponent of Eco-Somatics she presided at the Youth Forum of the first SEEDS (Somatic Experiments in Earth/Dance/Science) festival at EarthDance. EarthDance and the Yard are two favorite partner organizations for exploring site-specific dance outdoors. She has also performed choreographed works in the Sculpture garden at the Museum of Modern Art, outdoors at the Cooper Hewett Museum, on the Amherst Commons, & outside at Outfall festival/Mt Madonna Retreat Center, and began improvising with our Global Water Dances group at the Schumacher College for Ecological Studies and Dartington Hall in England. She loves to lead or participate in movement choirs. She envisioned water as a major theme for movement choirs when she was introduced to author William Marks (featured in the movie FLOW – For the Love Of Water). Recommendation: visit www.EmbodyPeace.org. Keep dancing!
---
Natasha Alhadeff-Jones, MA, CMA
Dance Educator and Artistic Director of Sunkhronos Institute
http://www.sunkhronos.org/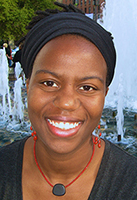 Natasha Alhadeff-Jones holds a Masters in Dance Education from Teachers College, Columbia University and is a Certified Movement Analyst from the Laban/Bartenieff Institute of Movement Studies. She has taught all ages, from children to the elderly, in the fields of dance, environmental science, and health education, in public and private schools, and with non-profit organizations in the U.S.A. and Switzerland. As a contributor to the NYC DOE Blueprint for Teaching and Learning in the Arts: Dance and in her role as Manager of School Programs at NYC Ballet, she facilitated professional development for teachers and administrators. As a dance educator at Collège du Léman and the Swiss Regional Lead of the Juilliard-Nord Anglia Performing Arts Programme, she designed unique curricular programs and mentored other dance teachers. Currently, at Sunkhronos Institute's MAPS Lab, she is developing place-based artistic and educational workshops. Serving as a Global Water Dances site leader since 2011 in New York City and Geneva has provided Natasha with meaningful opportunities to bring together all of her passions: building community and raising awareness of environmental issues through the universal language of movement and the transformative medium of site-specific dance.