Audience Location:
Berlin Hauptbahnhof near to the Spree
Date and Time:
June 24, 2017 at
Water Locale:
Spree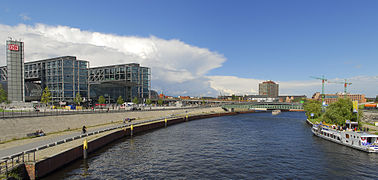 Choreographer(s):
Anja Schäplitz. dancer, choreographer, musician, trained at Trinity Laban, London. Anja has worked as a performer and singer in a variety of different music and dance productions all over Europe for more than twenty years. She is facilita- tor and choreographer for numerous community arts projects, predominantly dance projects for children and young adults from disadvantaged back- grounds. In 2013 she joined the the Global Water Dance Performance – Kollektiv Berlin as a performer and choreographer (www.globalwaterdances.de). She is founding member of the non-profit organisation Tanz & Theater in the PHY- NIX e.V. (www.phynixtanzt.de/tanztheaterimphynix_eV.html). www.anjaschaplitz.com
Heike Kuhlmann. dancer, choreografer, somatic movement educator and therapist ( SME/SMT) is part of the Global Water Dances Performance collective Berlin since its foundation in 2010. Heike holds a MA in Choreography/ Performance studies and a Diplome in Integrative Bodywork & Movement Therapy. She is interested in working with somatics in creating choreography as well as finding expression of political content in performance. In 2014 she created the Solo performance P.L.A.S.T.I.N.U.R.K. and the sidespecific work: "X-change – a performative demonstration about fair and unfair market". She teaches Contact Improvisation combined with somatic movement education and dance internationally at Contact festivals e.g. in Brasil, Romania, Finnland, Malaysia, Japan.more information: heikekuhlmann.net
Sibylle Günther. Dancer, choreographer and lecturer for dance. Since 2010, she has been part of the Global Water Dances Berlin team. Her many years of experience in modern dance, contemporary dance, dance theater and performance art – from soli to ensemble productions, from conventional stage to film up to stage-independent space, from pure dance as well as in cooperation with artists from acting through music to the visual and media arts (Manakùna, Undine, Egodocuments, Joyfull Choices, Science meets dance, science meets science). With the Global Water Dances Performances Kollektiv Berlin she worked the performances "Liquid Spaces" and "Liquid Spaces II". Through workshops and regular workshops, they communicate their knowledge to different ages and levels. Since 2015 she has headed the studio "PHYNIXtanzt". www.collage-moderne.de
History of Site and Related Water Issues:
Berlin is a "Water City", with the Spree and the Havel as the main rivers. The huge canal system gave Berlin also the name: "Little Venice". The audience site points out some of the significant characters of Berlin: Insel der Jugend, a little island in the waters as a part of a recreation park in the former East of Berlin and the area around the new Main Station of Berlin, core of the new urbanity of the City, park and party locations at the Spree River.
The River Spree, close to the Hauptbahnhof, has been changed in its run to build the station. That is a symbol who we deal with water in the capital city of Germany, we make it suitable to political needs. We also want to make a statement here against selling out water rights. A lot of people cross that site to visit the city or to leave it. So we intend to reach a lot of people with our dance and music here. It is in the middle of that huge city, and that city is called the Venice of the North because of all the water, lakes and rivers and the huge amount of bridges!
Music:
TBD
The Performance:
TBD
Environmental Impact:
TBD
Directions to the Site of Performance:
From the main railway station of Berlin you head south, go 500 m over the Washington Square to the Riverside on Rahel-Hirsch-Ufer and you are there. You see the Reichstag, the Kanzleramt and the Funkturm on the other side!
Email for more information:
globalwaterdance.berlin@gmail.com
How can I get involved?
TBD
Local Website:
Other resources and links: