Audience Location:
The Wharf of City Dock No. 1, the oldest pier at the Port of LA, immersed in the sights and sounds of the port, while watching the dancers perform on the anchored ships in the water
Date and Time:
June 24, 2017 at 9:00 pm PDT
Water Locale:
Los Angeles Waterfront in San Pedro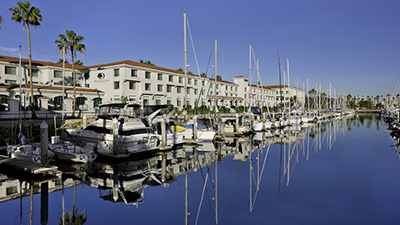 Choreographer(s):
Heidi Duckler is the Artistic Director and founder of Heidi Duckler Dance Theatre. Since its inception in 1985, she has choreographed more than 200 original dance works at unique sites in Australia, Germany, Russia, Hong Kong, Montreal, San Francisco, New York, Miami, Atlanta, Las Vegas, Portland, Seattle, and throughout Southern California. Titled "the reigning queen of site-specific performance," by the L.A. Times, her work has been commissioned by the Brisbane Festival, Miami Light, Grand Performances, REDCAT, Aben Dans in Denmark, Brookfield Properties, the Hong Kong Youth Arts Foundation, and Reed College among others. She earned a BS in Dance from the University of Oregon and an MA in Choreography from UCLA, and is currently a Board Member of the University of Oregon's School of Music and Dance Advancement Council. Duckler was recognized with an American Masterpieces Award from the National Endowment for the Arts to tour Heidi Duckler Dance Theatre's signature work "Laundromatinee," and was awarded two Dance/USA Engaging Dance Audiences grants. She has most recently been honored with the Los Angeles Women's Theatre Festival's Maverick Award, and LA Weekly's Best Site-Specific Dance Company Los Angeles and was featured as a TedxUCLA speaker in 2015.
History of Site and Related Water Issues:
TBD
Music:
Composer Juhi Bansal
Three singers from the LA Opera
***
Additional information below on The Performance
The Performance:
Beyond the Waterfront:
A dance opera story of sirens and sailors on the ships and the wharf, Beyond the Waterfront pays homage to the late Leonard Bernstein with a multi-sensory work that tackles themes of collaboration, sustainability, and the influence of humanity on environment.
Featuring:
HDDT Dancers: Ryan Walker Page, Jillian Meyers, Corina Kinnear, Isaac Huerta & Tess Hewlett
LA Opera Singers: Jamie Chamberlin, Lisa Eden & Melissa Treinkman
Other related activity begins at 8:00 pm PDT:
8:00PM – Light refreshments with a visual art exhibit and live music by Boys & Girls Clubs of the Los Angeles Harbor
8:30PM – Talk back
Moderator: Linda Grimes San Pedro Waterfront Arts District Representative
Panel: Heidi Duckler Artistic/Executive Director of Heidi Duckler Dance Theatre, Jenny Krusoe Executive Director of AltaSea at the Port of Los Angeles, Captain Bruce Heyman Executive Director of Los Angeles Maritime Institute & Stacy Brightman Vice President, Education and Community Engagement, LA Opera
9:00PM – Performance
Environmental Impact:
TBD
Directions to the Site of Performance:
TBD
Email for more information:
How can I get involved?
TBD
Local Website:
Other resources and links:
TBD