Back to the list of All 2015 performances
Audience Location
De Vargas Park
Date and Time
June 20, 2015 at 5:30pm-6:00pm
Water Locale
Santa Fe River
Choreographers
Trey Pickett
Born on Turtle Island (USA) in Los Angeles California in the city of Altadena in. Trey now resides in what the states call "The new Hollywood", Albuquerque, New Mexico. Trey was the 2015 cultural ambassador for exchange and dance in New Zealand.Trey is of African, Cherokee, and French descent which Trey represents as an International choreographer, performer, and director/consultant. Trey attended the University of New Mexico for his bachelor's in fine arts. Trey has been featured in films, television shows, music videos, live theatre and much more. Trey has been a representative for New Mexico at American College DanceFestival, teaches/performs all over the states, and also Directed/owned his own competitive school. Trey has 19 years of dance experience which consists of Hip Hop, African, Modern/Contemporary, partnering, Flamenco, Jazz, Stepping/body percussion, Ballroom, contact improve, and freestyle culture. Trey has been a judge across many competitive fields of dance. Trey has also worked with Festival Ballet Albuquerque celebrating FBA's first performance with creating a work for the inaugural Choreographers Showcase in 201, was lead dancer in "Creation of the World" with Figueroa Music and Arts project in 2012, created the title role of Wolf in "Peter and the Wolf" with the New Mexico Philharmonic, and performed as King of the Underworld in "Dracula, A Love Story". Trey holds many honors one of which is being the first black male principal dancer with The New Mexico Ballet Company, bridging also urban/hip hop artists into classical technique.Trey is a catalyst for creating positive change around the world sharing his heart and his stories with performance arts as the vehicle. Trey is currently touring with the International indigenous contemporary company Dancing Earth, directed by Rulan Tangen. Treys next tour shall be to the peaceful lands of Canada. Aside from performing across the spectrum from crews to companies and directing, Trey truly believes in building a bridge to the universal soul of human kind. Trey is about connecting the drum of our hearts so that we may Joyfully heal our Mother Earth. Dance is an expression of the people so it is paramount that it be shared with the global community.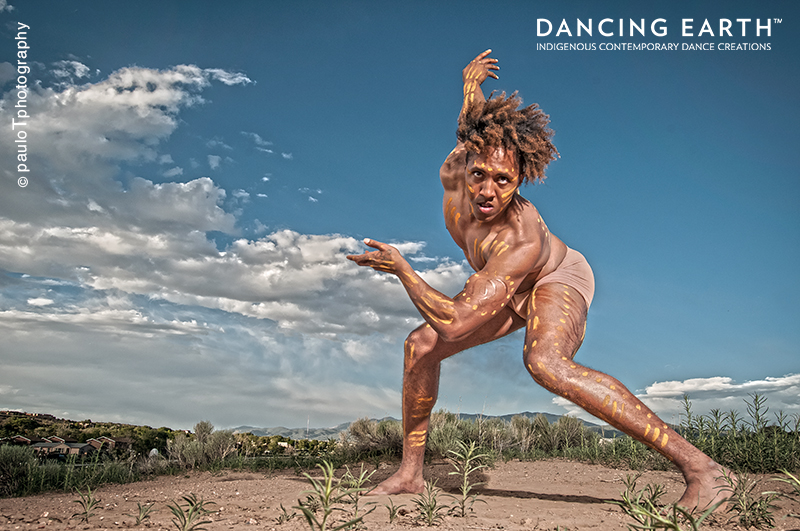 History of Site and Related Water Issues
The site we are performing is at De Vargas park which sits just near Santa Fe River. The River is in need of restoration as is much of the bodies of water in New Mexico and the world! Restoration is an integral process needing community and projects like Global water Dance. The channel and banks in many sections of the river are in poor condition. The Santa Fe River Watershed is 285 square miles – from Lake Peak (12,408') in the Sangre de Cristo Mountains to the confluence with the Rio Grande at Cochiti (5,220').
10% of this area (17,400 acres) lies above the City of Santa Fe, primarily within the Santa Fe National Forest.
At Lake Peak, precipitation averages 35 inches/year; at Santa Fe 14 inches/year; at Cochiti 10 inches/year.
The Santa Fe River is 46 miles long.
Directions to the Site of Performance
302 W De Vargas St Santa Fe, NM 87501
Email for more information
Local Website
http://creativesantafe.org/news-fantase2015schedule.html
Other resources and links
Schedule of events
Event Page
Follow Trey Pickett on Facebook