Audience Location:
Standing In front of the Fontanone – Gianicolo
Date and Time:
June 24, 2017 at 12:00 local time
Water Locale:
Fontanone del Gianicolo ( Fontana Dell'Acqua Paola )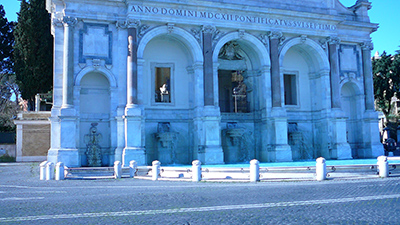 Choreographer(s):
Marinella Montanari Bio:
Gruppo Jobel was founded in 2000 by the Independent Italian Art Director Lorenzo Cognatti (the very first group started in 1997)
Since 2000 we have been working all around Italy and abroad through performing arts events and educational projects.
JOBEL is the sound of the Horn that was played in the ancient times by the nomads populations of the fertile crescent. The sounds had a special meaning: it announced one year without war and a wish of prosperity. We strongly believe that live artistic communications can help human society to create a better world. We are focused on contemporary themes but we keep the roots on traditions and we develop cultural exchanging programs.
We are now a group of 16 people ( including Art Directors – performers / teachers – people in charge of management, collaborators ).
The first group of 5 is been working together since the very beginning – 1997 – than we have grown up.
Each year we organize auditions to hire new performers and technicians for our projects.
In Italy, since 2003, we manage an International Artistic Residency – Centro Jobel –
( one hour from Rome in the beautiful landscape of Sabina Region surrounded by woods, hills and ancient towns ).
The Artistic Residency Centro Jobel it's Recognized by The Italian Ministry of Culture and Heritage.
This year – 2017 – we were recognized as one of the best Creative Factory in our Region.
The Residency Centro Jobel offers several programs to support independent creations, educational programs, international performing arts events,
https://www.youtube.com/watch?v=Fw54wamcep0
In Rome, since 2012 we manage a Theatre and Art school for children, teenagers ( 200 students ) and a creation space for artists with rehearsals rooms and a 60 seats theatre.
Since 2015 we are Project Leader of the International Artistic Platform: Undercreative Network. The Platform is Co – Financed by the Eu Program Creative Europe – FB Undercreative Network.
****
Francesca Di Franco.
Dancer, Actress, Choreographer and Teacher for Jobel Group since 2000.
She graduated in Rome in 2009 in Performing arts and literature at University La Sapienza in Rome.
She developed a particular and personal style of dance taking inspiration form workshops with dancers Netherlad Dance Theatre dancers and Pina Bush dancers.
History of Site and Related Water Issues:
The Fontana dell'Acqua Paola also known as Il Fontanone ("The big fountain") is a monumental fountain located on the Janiculum Hill, near the church of San Pietro in Montorio, in Rome, Italy. It was built in 1612 to mark the end of the Acqua Paola aqueduct, restored by Pope Paul V, and took its name from him. It was the first major fountain on the right bank of the River Tiber.
The Fontana dell'Acqua Paola was inspired by the popularity of the Fontana dell'Acqua Felice, built in 1585-88 by Pope Sixtus V. Pope Paul V decided to rebuild and extend the ruined Acqua Traiana aqueduct built by the Emperor Trajan in order to create a source of clean drinking water for the residents of the Janiculum Hill, who were forced to take their water from brackish springs or from the polluted Tiber.
Now Fontanone is a symbol of beauty and prosperity as we have all year water there.
We would like to dance there because we are aware that in Rome there are a lot of beautiful historical fountains and little fountains with drinkable water water all year and in other cities in the world there is no water at all. So we would like to celebrate water but most of all communicat to our audience how precious this element is.
The Performance:
The dance will be performed by the advanced theatre students of our theatre school in Rome. They are all teenagers from 14 to 19 years old.
Environmental Impact:
As this is our first time in this event we would like to comunicate our event first of all to The City of Rome and to our followers.
Directions to the Site of Performance:
You can easily reach Fontanone ( Fontana dell'Acqua Paola ) form Trastevere or From Gianicolo Hill.
Email for more information:
How can I get involved?
Volunteers are welcome to help us to inform people about the event.
Local Website:
Other resources and links:
* FB Gruppo Jobel.
* FB Bottega Delle Arti Craetive Roma