Back to the list of All 2015 performances
Audience Location
Audience will be workshop participants, who are welcomed from all backgrounds, cultures, levels of experience, to join in movement practices for alliance building , solidarity and awakening of intuition, imagination and memory around our precious element of WATER.
Date and Time
June 20, 2015 at 9 -12 and 2 -4
Water Locale
Since ancient times, the waters around Vancouver have existed in reciprocal spiritual, cultural and ecological caretaking by three Coast Salish peoples known as, Squamish (Sḵwxwú7mesh), Tsliel-waututh and Xwméthkwyiem ("Musqueam")
Choreographers
Rulan Tangen with First Nations dancers and community members.
Rulan Tangen, Founding Artistic Director/Choreographer of Dancing Earth, is honored to return to Vancouver from the Southwest desert where she is in residence, to share her vision with the community of Full Circle. Her work prioritizes 'Woniya" ( breath of life), the spine as link to identity and ancestral knowledge, and the intuition of body to connect to energies of the planet. Through movement and sound, she explores diversity and its impact on the individual and group dynamic. She honors the innate symbolism of cultural art forms, the capacity of movement for healing, and the deep metaphors that can expressed through embodiment. Through the language of dance, participants will get a unique cultural experience to grow greater capacity for understanding for the interconnected water flow of life on earth.
***
Rulan's dance journey centers around the founding of DANCING EARTH CREATIONS (DE) – an award winning Indigenous contemporary dance ensemble with touring history of over 15 states and 6 countries as performers, teachers, and cultural ambassadors . Her own professional performing experience spans international ballet, modern dance, opera, circus, film and television production in USA, Canada, Brasil, Argentina, Mexico, New Zealand and Europe. Surviving cancer to discover her leadership purpose, She has recruited and nurtured a new generation of Indigenous contemporary dancers and holds the belief that " to dance is to live, to live is to dance".
Her vision is recognized through honors including the first dance fellowship for Artistic Innovation by the Native Arts and Cultures Foundation, the Costo Medal for Education, Research and Service by UC Riverside's Chair of Native Affairs, Dance Magazine's pick as one of "25 To Watch", and recently the New Mexico School for the Arts ' Community Arts Leadership award.
Her work values movement as an expression of indigenous worldview, including the honoring of matriarchal leadership, dance as functional ritual for transformation and healing, the process of decolonizing the body, and the animistic energetic connection with all forms of life on earth.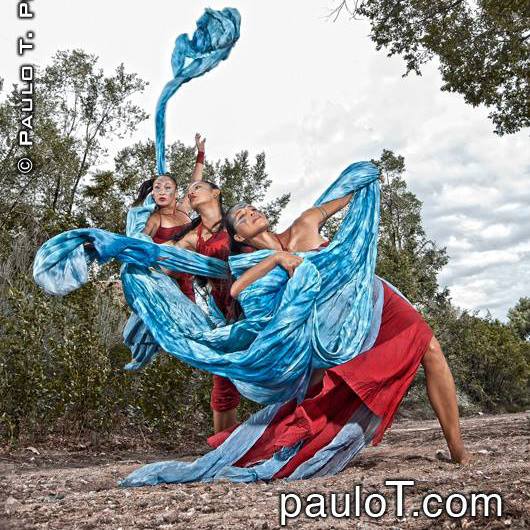 History of Site and Related Water Issues
From Amnesty International:
" An estimated 20,000 First Nations people living on reserves across Canada have no access to running water or sewage. In addition, at any one time 110 to 130 First Nations are under boil water advisories because their municipal water is not safe to drink.
In 2006, an expert panel appointed by the federal government concluded that drinking water problems in First Nations communities were primarily the result of federal underfunding.
The panel urged the federal government to provide the resources necessary "to ensure that the quality of First Nations water and wastewater is at least as good as that in similar communities and that systems are properly run and maintained."
The panel also criticized the government's failure to prioritize the communities in greatest need. Many of the First Nations communities with little or no running water and sewage are not even named as high priorities in the government's current work plan.
Instead of acting on the panel's concerns, the federal government has adopted new legislation that creates a framework for regulating First Nations water without providing any new resources to ensure that the needs of these communities are actually met.
The First Nations water act is also of concern because of the extraordinary, unilateral powers that it claims for the federal government. Under the Act, the federal cabinet can override First Nations' own laws and regulations and even deliberately violate existing self-government agreements and Constitutionally-entrenched Treaty rights without the affected peoples having any say.
***
ARTICLES
Music
From global water dance workshop participants
The Performance
The Global Water Dance is integrated into workshops by our wonderful host – Full Circle First Nations Performance Group, and will occur in two sessions onSaturday June 20th:
9 am to noon for those with dance experience
and 2-4 for inter-generational community members
Info and Registration Contact Kwasuun@ 604 683-0497 kwasuun@fullcircle.ca
From 9am – noon
***
Where: Scotia Bank Dance Centre located at 677 Davie St., STUDIO: Kraul
DESCRIPTION : Rulan welcomes dancers into a circle of rigorous contemporary class rooted in Indigenous imagery. The warmup is in continuous motion, growing through levels from ground to sky, emphasizing qualities of elements such as air (breath), water (flow), and earth ( rootedness ). With impetus from spine and torso, we will explore the undercurrents of circles inherent in movement and move through space in movements of migratory winged and fourlegged. As an expression of bio-diversity, Rulan encourages individual interpretation to serve the ecology of the whole. Session will culminate in movements dedicates to water as the source of all life – for Global Water Dance Day. These phrases will be drawn from over a decade of exploration of an evolving language of Indigenous contemporary dance.
***
When: 2pm-4pm, for inter-generational community (pls arrive 20mins early )
Where: Renegade Productions located at 125 East 2nd Ave, STUDIO: A1
Pls note: Studio A1 has easy entry access from alley directly behind building as well as free parking. Look for Full Circle signage. PLS call Kwasuun at cell#778-836-5273 to be let in the front door or for any reason.
DESCRIPTION: Rulan welcomes all members of community to experience the healing powers of movement , in a practice that begins with somatic decolonization. Exercises of undoing help release and then renew through building of multi sensory awareness, memory and imagination. Balancing movement and stillness , we will integrate the realms of the medicine wheel: body, spirit, emotions and mind. The body increases capacity for transformation, through simple kinetic expressions of cardinal elements of water, sky, earth. Sound and motion will create a dynamic sense of group. We will culminate in a ritual embodiment of positive intentions for the water of our bodies and of the planet, to honor Global Water Dance Day . Organic, dynamic , grounded, living, breathing dance !
Directions to the Site of Performance
What is now known as Vancouver is within the traditional territories of three Coast Salish peoples known as, Squamish (Sḵwxwú7mesh), Tsliel-waututh and Xwméthkwyiem ("Musqueam"—from masqui "an edible grass that grows in the sea")
From www.musqueam.bc.ca : " The Musqueam people have lived in our present location for thousands of years. Our traditional territory occupies what is now Vancouver and surrounding areas. The name Musqueam relates back to the River Grass, the name of the grass is məθkʷəy̓. There is a story that has been passed on from generation to generation that explains how we became known as the xʷməθkʷəy̓əm (Musqueam) – People of the River Grass :
It was noted that in some periods the məθkʷəy̓ grass flourished, and in some periods it could scarcely be found. It was also noted that in some periods our people would flourish and in some periods the population would dwindle, perhaps by plague or war. It was in this way that we became known as Musqueam."
We are traditional hən̓q̓əmin̓əm̓ speaking people and have descended from the cultural group known as the Coast Salish. Our people moved throughout our traditional territory using the resources the land provided for fishing, hunting, trapping and gathering, to maintain their livelihood. Today, the Musqueam people still use these resources for economical and traditional purposes.
Although a metropolitan city has developed in the heart of Musqueam territory, our community maintains strong cultural and traditional beliefs. Our community historians and educators teach and pass on our history to our people, which has always been the way of our people, to keep our culture and traditions strong.
Today our population flourishes and we are a strong community of over thousand members. We live on a very small portion of our traditional territory, known as the Musqueam Indian Reserve, located south of Marine Drive near the mouth of the Fraser River."
***
Info about the workshops that integrate Global Water Dances
Email for more information
How can I get involved?
By signing up to participate in the dance sessions !
Additional related activities will be happening on June 18-19 including cultural welcome, lecture, garden activities, and potluck feasting.
Please contact the above emails for more information
Local Website
Other resources and links
On June 25, 2014, Vancouver City Council formally acknowledged " that we are on the unceded traditional territory of Musqueam, Squamish and Tsleil-Waututh First Nations. There was never any treaty with these nations…. At this point, the city is acknowledging that fact."
Some other resources :